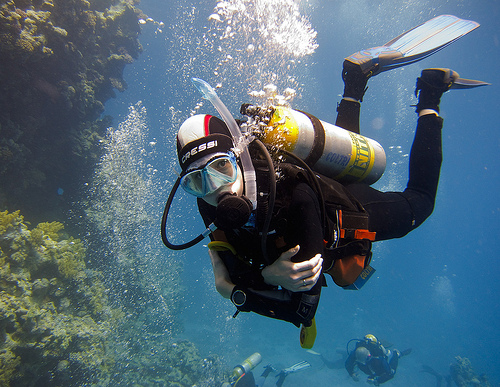 Diver with early symptoms of hypothermia
Aqua Views online SCUBA magazine
The second main option for retaining warmth on a dive is a drysuit. A drysuit is designed to keep the wearer completely dry and surrounding by a layer of air. This layer acts as an insulator. As no water is touching the body, a drysuit will keep a diver warmer than a wetsuit.


Two questions all divers must ask themselves are:

1)

Why do I get colder faster in the water than at the surface?



2)

How do I keep from getting cold while on a dive?





Water is more dense than air- about 770 times as dense. Because of this, the water molecules are closer together than air molecules, making water able to conduct heat about 20 times faster than air.
There are two general options for retaining warmth while on a dive, a drysuit or a wetsuit. A wet suit is made out of material, usually foam neoprene, that traps small bubbles. These bubbles retain air to act as an insulator, reducing conduction. A wetsuit also traps a small layer of water close to the body. After the body heats the water, it is trapped inside the wetsuit and cannot be lost due to convection. This is a reason why proper fitting wetsuits are a must.