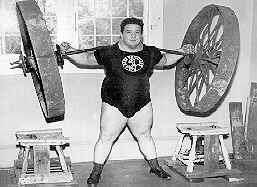 Paul Anderson (1932-1994)
Height: 5'9''
Weight: 330-360 pounds
Accomplishments: Paul Anderson broke and re-broke every strength record of his time. His strength is unmatched, even today. He was an Olympic gold medalist, strongman, and philanthropist. While most of records are unofficial, many good sources report of his incredible feats of strength.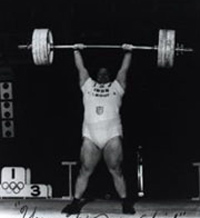 He was born on October 17, 1932, in Toccoa, Georgia. He began lifting weights in high school in his backyard. He started out with only two dumbbells and some Strength and Health. He was immediately hooked. He looked through junkyards to find heavier and heavier weights to lift. By the time he went to college at Furman University for a year, his lifts were close to the American records of the time. It was at college the idea of becoming a "strongman" occurred to Paul. He left college after a year and went to live with his parents. He met Bob Peeples, a great lifter of the time, and was trained in the squat and Olympic lifts(clean and jerk). From there his career took off. His best lifts of his career include an amazing 1206 pound squat(still unmatched), a 627 pound bench press, a 380 pound one arm press, a 600 pound push press(pressing the weight overhead),and an incredible 575 pound jerk press(pulling the weight up and pressing it out). He made the Guinness Book of World Records for lifting 6,270 pounds in the backlift. This weight is listed as the most weight ever lifted by a human being. He won the gold medal at the 1957 Melbourne Olympics. In all, he broke 18 American records, 8 world records, and retired unbeaten and unchallenged.

Videos of some of Pauls amazing feats of strength:

Watch Paul one-arm press 300 pounds twice Click here.

Watch Paul lift two 55-gallon drums of concrete Click here.

Watch Paul clean and press 435 pounds Click here.
Paul was a devoted Christian and father and always had a heart for children. After he retired he devoted his life to helping troubled children. He also became a prolific public speaker and made many motivational speeches. Paul got married in 1959 and has one daughter.
In 1961, the Andersons established the Paul Anderson Youth Home, a place where young men and women ages 16 through 21 who would regularly be in jail can come for Christian rehabilitation. Paul used all his funds earned from public speaking to fund the home and benefited over 2000 young men and women. The house continues to take in troubled young people, even after Paul's death in 1994.