Degree Requirements

Master of Science
The master's degree program at UAF requires a thesis, the completion of ATM 601 and the completion of three out of four remaining core courses
listed below.
ATM 601: Introduction to Atmospheric Sciences (REQUIRED BY ALL STUDENTS)

ATM 645: Atmospheric Dynamics I

CHEM 606: Atmospheric Chemistry

ATM 613: Atmospheric Radiation

ATM 615: Cloud Physics
In addition to the basic core, students take additional courses to obtain the breadth necessary to be an atmospheric scientist. Course descriptions for core courses and breadth courses offered by the Department of Atmospheric Sciences at UAF can be found here.
One additional 600-level course and the completion and oral defense of a master's thesis.
Doctor of Philosophy
The Ph.D. degree requires masterful completion of all five core courses listed above plus additional course work. Ph.D. students are required to pass a written comprehensive examination covering the courses listed under the master's degree program. Students must also successfully pass a oral preliminary examination within their specialty. Finally, all students must write and defend a Ph.D. dissertation.
Relationship Between Courses
The core courses (light blue circle) provide the basics which prepare the students for the specialized courses (yellow circles). This chart displays the relationship between the core and specialty courses. Specialty classes that relay on basic principles from all of the core classes have one yellow line to the large blue circle.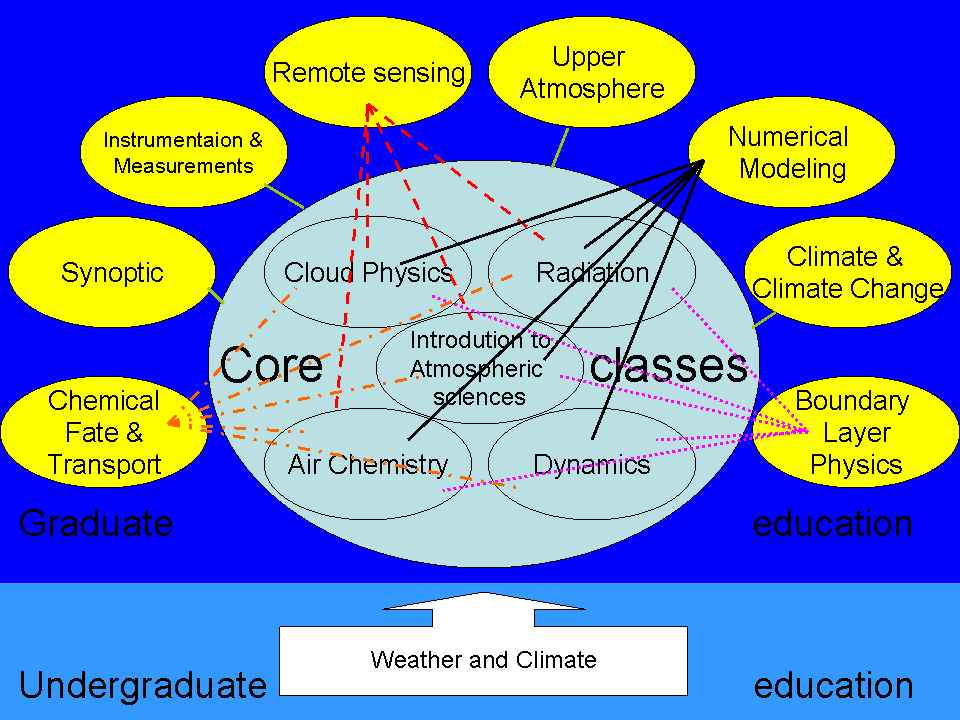 Conceptual diagram by N. Mölders
For more details please consult our Program's Graduate Plan.