Waxing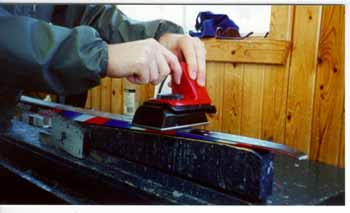 Ski bases are created from the plastic polyethylene and created with a method termed sintering. All modern bases are sintered which means that they are porous and act like a sponge to the wax which is applied to them.
In general, softer ski waxes are used for warm temperatures. As the temperature drops there becomes a greater amount of dry friction between the snow and the wax. Harder waxes resist having sharp snow crystals imbed themselves into the wax which would slow the ski down.
The 4 traditional materials combined to make ski wax are:

petroleum jelly are constituted by light branched hydrocarbon molecules like that shown below on the right. These make a softer wax with a oily feel.

paraffin are constituted by long, straight hydrocarbon molecules like that shown below on the left. These can be both heavy and light but the lighter paraffins are used because of their lower melting point.. Paraffins make a hard wax more suitable to cold conditions.

microwax: are constituted by heavy, branched hydrocarbon molecules. Microwax is harder than both paraffins and petroleum jelly.

Fischer Tropsch wax is derived from coal tar and is the hardest and heaviest of all the waxes.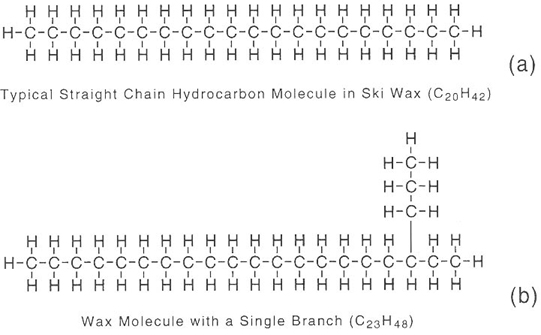 image from the Physics of Skiing
Cheaper, common waxes are composites of these ingredients. For better performance, higher end waxes combine these constituents with secret ingredients and these newer materials:
Graphite reduces triboelectric drag by minimizing the static electricity build up on the ski. Graphite also conducts heat from the contact points at the tip and tail of a ski to its middle. In warm weather, this prevents the formation of thicker water films and thus reduces capillary drag.
Flourocarbons repulse water and decrease the capillary a viscous friction on warm days.

Kick wax is used to create friction to allow classic cross country skiers to push off the snow with one foot and glide with the other. Kick wax is designed have a high static coefficient of friction and a low kinetic coefficient of friction. The soft, tacky wax embeds the show crystals in its base through the force of the skiers downward kick. When the kick is finished, the skier transferes his weight to the other leg to make the next quick. Without any downward force, the forward motion of the ski lightly wipes the wax clean and ready to glide. This technique is detailed below: